December 12, 2012
Restaurant Industry Expected to Post Modest Growth in 2013
The National Restaurant Association projects total industry sales will reach $660 billion in 2013, according to the association's forecast for the upcoming year. This represents a projected 3.38 percent increase over this year's sales levels or 0.8 percent in real/inflation-adjusted growth. If the industry reaches these levels it would mark the fourth consecutive year of real growth, according to the NRA.
Judge to Become Bonefish President
Stephen Judge will become president of Bonefish Grill, a Bloomin' Brands concept, effective Jan. 1, 2013. Judge will join the company from Darden Restaurants, Inc. where he served as president of Seasons 52, a division of their Specialty Restaurant Group. Judge will succeed John Cooper, who is retiring after a successful 23-year career at Bloomin' Brands.
New Corporate Chef on the Menu at Unified Brands
Steve D'Angelo is the new corporate chef for Unified Brands, a Mississippi-based manufacturer of multiple foodservice equipment lines.
Remembering Lois Thompson
Lois Thompson, founder of Hiawatha Chef Supply, Inc. has passed away. She was 85 years old.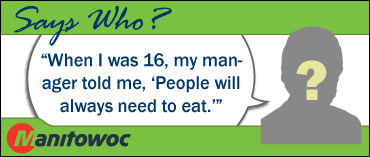 Looking Ahead: What to Expect in 2013
The good news is that the business environment is expected to improve in 2013. The bad news is that foodservice operators face no shortage of challenges heading into next year.
Libbey to Become U.S. Distributor of Spiegelau and Nachtmann Lines
Libbey Inc. will become the exclusive foodservice distributor of the European-based Spiegelau and Nachtmann product lines, thanks to a new deal that takes effect on Feb. 1, 2013.
Chain Profile: Fresh To Order
Emerging Atlanta-based chain carves out "fast fine" niche.
Remembering Ray Ward
Longtime independent manufacturer's rep Ray Ward passed away on Dec. 5.
REW Expands its Operation
Restaurant Equipment World has opened a location in Dubai, UAE.
Randell 8000N Series Prep Tables
Designed to withstand the harshest kitchen environments, the 8000N Series by Randell is the easiest to control & easiest to clean prep table available. It's no wonder 3 of the top 4 pizza
chains rely on Randell to keep their food cold & fresh!
Buffets Names New CEO
Buffets, Inc. named Anthony Wedo its chief executive officer. A 25-year veteran of the restaurant industry, Wedo has worked with a variety of chains, including KFC, Boston Market, Noah's and Manhattan Bagels and Einstein Bagels.
Fiesta Restaurant Group to Open New Corporate Office
Fiesta Restaurant Group, Inc., which owns the Taco Cabana and Pollo Tropical chains, will open a corporate office in Addison, Texas. The company will continue to operate brand offices in San Antonio and Miami.
What Consumers Want When Dining Out
While a multitude of reasons lead to consumers purchasing meals prepared outside the home, foodservice operators need to develop a working knowledge of the behavior, preferences and attitudes regarding a variety of key dining occasion needs. And a Technomic study, "Menu Positioning & Occasion Driver Consumer Trend Report," helps shed some light on consumers' dining behaviors.
Dunkin' Donuts Updates Management Team
Dunkin' Donuts named Susan Scherer its vice president of the South Central region and promoted a pair of employees. Weldon Spangler is the new vice president, Dunkin' Donuts Operations U.S. and Canada and Jesse Schlueter is vice president, global learning.
This Week In Foodservice: Top Line Job Growth Looks Good but There's More to the Story
Job growth is critical for the foodservice industry to continue to grow. So the fact that the Bureau of Labor Statistics' November jobs report showed a decline in unemployment is a good thing, right? Not when it means there are fewer people in the workforce. So foodservice will continue to ride the wave of emotion that accompanies the foggy labor outlook.